Our Feed is the Keeper's Choice Range from Duffields.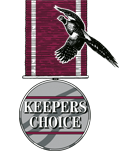 Keeper's Choice are renowned for the quality of their feed and its nutritional benefits which is why we choose them as our supplier.
Hampshire Game Limited offer a comprehensive range of Game Feeds for poultry, specially formulated to add a carefully designed nutritional balance to their diets. In order to rear the finest quality Game birds you need to carefully select Game Feed that will best support the birds' health.